Welcome to Holmer Green Youth Club.
The Youth Club offers local young people aged school years 6 to 13 opportunities for fun, meeting friends, and making new friends in a safe environment. Experienced youth workers are always on hand to give help and advice in a controlled environment. The best and easiest way to join is to download and fill out the 'Membership Form' from this website before coming. 
 We re-open on Wednesday September 4th
Take a look at our new opening times.
( thats right, you don't change nights )
MONDAY YR 8  7.30-9.00
TUESDAY YR 13  6.00-7.30
TUESDAY YR 9  7.30-9.00
WEDNESDAY YR 7  7.30-9.00
THURSDAY YR 6  6.30-7.30  STARTS ON SEPT 19th
IF YOU WOULD LIKE TO JOIN PLEASE GO TO OUR DOWNLOADS PAGE AND PRINT & FILL OUT OUR MEMBERSHIP FORM OR PICK ONE UP ON THE NIGHT>
Take a look at our Young Leaders at the Chiltern District Council Youth Awards.
2019 RUNNERS UP 
https://www.youtube.com/watch?v=vHd8dkPnEAo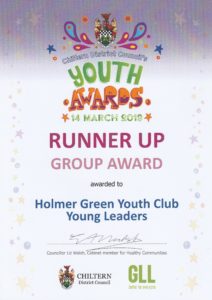 ---
Cost on the door £2
I help with other charities and understand there are many families who would find the cost of coming to this Youth Club too much. I would like to make it clear that if this is you, please contact me. We are here to help Young People and I would not like to think they don't come because of the cost.
We are in great need of parents to join our Management Committee. Please do talk to me or send us an e-mail if you are interested. It will only take 4 nights a year to come along and we can promise you biscuits as well. I think you may find it quite interesting what goes on behind the scenes.