CORONAVIRUS UPDATE 28/08/20 – GOOD NEWS
Holmer Green Youth Club is planning to re-open on Monday September 28th
The opening times will need to change along with the size of the groups. HGYC, along with all Youth Clubs, has to follow the rules of the 'National  Youth  Agency' and not the rules and changes in schools. We are only allowed Bubbles of 15 Young People + leaders.
On Monday 21st September at 7.30pm, a Year Group Google Sheet will be sent out.
Google Sheets allow multiple users to add their names to a list in real-time.
Each Young Person can choose which Bubble slot to join along with friends. I will confirm who is in which Bubble before opening. Once in a Bubble you have to stay in that Bubble. The Young Person must have signed up and be in a Bubble to be able to come along.
The opening times are already on our website if you would like to have a look in advance.
All the safety precautions and information will be sent out nearer the date and also be available on our website.
Mike Turner
Managing Youth Leader
Welcome to Holmer Green Youth Club.
The Youth Club offers local young people aged school years 6 to 13 opportunities for fun, meeting friends, and making new friends in a safe environment. Experienced youth workers are always on hand to give help and advice in a controlled environment. The best and easiest way to join is to download and fill out the 'Membership Form' from this website before coming. 
---
HOW TO KEEP UP WITH THE NEWS
Holmer Green Youth Club has also opened an Instagram account. This is for giving information to the Young People about HGYC but it also offers a way for Young People to get in touch with us if they would like to chat about anything.
Please could you encourage your Young Person to follow us on Instagram by keying in holmergreenyouthclub
We have all the risk assessments, policies and guidance for this work in place. Safety and Safeguarding are a top priority now as much as they have always been at the Youth Club. If you have any questions, please reply to this e-mail.
Mike Turner
---
---
IF YOU WOULD LIKE TO JOIN IN OTHER YEAR GROUPS PLEASE GO TO OUR DOWNLOADS PAGE AND PRINT & FILL OUT OUR MEMBERSHIP FORM OR PICK ONE UP ON THE NIGHT>
---
Take a look at our Young Leaders at the Chiltern District Council Youth Awards.
2019 RUNNERS UP 
https://www.youtube.com/watch?v=vHd8dkPnEAo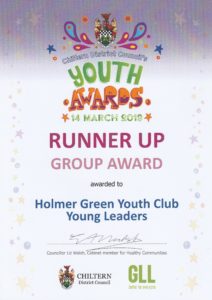 ---
Cost on the door £2
I help with other charities and understand there are many families who would find the cost of coming to this Youth Club too much. I would like to make it clear that if this is you, please contact me. We are here to help Young People and I would not like to think they don't come because of the cost.
We are in great need of parents to join our Management Committee. Please do talk to me or send us an e-mail if you are interested. It will only take 4 nights a year to come along and we can promise you biscuits as well. I think you may find it quite interesting what goes on behind the scenes.